Services
Reasons For An Appraisal
The reasons to hire a real estate appraiser are many. You could be a Homeowner wanting to buy, sell or refinance your piece of the American Dream. You could be an attorney that specializes in successions, probates or divorce settlement. You could be an accountant that needs a tax or liquidation value for real estate. A real estate agent that would like an accurate measurement or a solid valuation to base a listing price of a home. I every case your needs are different and unique. You will need an expert to examine your individual needs and to determine the best approach to solving the problem with the highest level of credibility. We at Orleans Appraisal want to be your expert!

What you can expect from using from Orleans Appraisal and Consulting:
Turn around time:

Final appraisal reports are usually provided within 24-48 hours after inspection. We do offer expedited and same day service for an additional fee.

Prompt response to your initial inquiry:

We provide our clients with personalized information for each appraisal need. You can rely on us to determine your individual needs and suggest the most credible approach in solving your problem.

Trained Professionals:

All appraisal services are performed by a Louisiana State Certified Residential Appraisers.

Technology:

To provide our clients with service of high integrity, reliability and excellence, Orleans Appraisal utilizes state of the art digital tools, software and paid data services to quickly and accurately complete your real estate appraisal assignments.

Fees:

Our fees are competitive to other real estate professionals in the Greater New Orleans Area. We do work with our clients to provide the best service possible for our fees. We also offer discounts for bulk or multiple appraisals assignments.

Integrity:

We adhere to the standards set forth in USPAP (Uniform Standards of Professional Appraisal Practice) and higher than acceptable practices.
Service Area: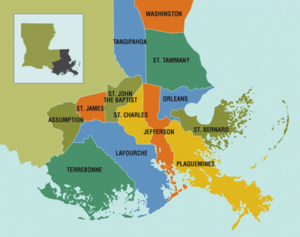 Orleans Appraisal provides services for the entire Greater New Orleans, LA area. We specializes in unique homes in the Uptown, Garden District, Gentilly and Bywater neighborhoods. We perform real estate appraisals and services in the following towns and parishes, as well as many other communities in South East Louisiana; New Orleans, Kenner, Metairie, Chalmette, Destrehan, Estelle, Gretna, Harvey, Jefferson, LaPlace, Luling, Mandeville, Marrero, Meraux, River Ridge, Terrytown, Timberlane, Westwego & Woodmere.
Contact Us
If you need a Louisiana or New Orleans Appraiser, please call us today to find out how we can meet your residential appraisal needs: Call (504) 300-9714 or use the contact form.